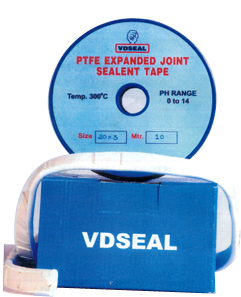 Expanded PTFE Joint Sealant is made from 100% white pure virgin imported PTFE resin combined with a continuous self-adhesive strip for easy application. Plus its main characteristics of excellent flexibility, good resistant to crep and cold flow, it also resists high & low temperature, corrosion and aging, and can be lubricated by itself. It has the properties of Air-tight, water-proof under the pre-tight pressure. Its sealing property is remarkable, installation is extremely convenient,and can cut along with usage.so it is the ideal packing material in the industry field of chemical, the medicine, petrified, food drink, the electron, the electric power, the metallurgy, the ships.
Usage:
All kinds of flange surface in enamel lining, the glass lining, the plastic lining, the rubber lining, the graphite lining and the titanium steel tower, the heat interchanger. The ventilation duct, the concrete lid, FRP, compress rack, hydraulic & pneumatic system ,water system. All kinds of pipeline flange surface seal. Special for flange of which Face work precision is bad, un- smobth region is big, the shape is irregular. The environment in strong corrosive medium and slightly pollute.
Expanded PTFE Joint Sealant is made from 100% pure PTFE. It has excellent functions of anti-acid & anti-alkalis and well tensile strength recovery. It is especially used in food, drink, chemical etc. It can be used easily without making gasket.